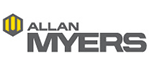 Allan Myers Tuition Rewards
Tuition rewards are now available to Allan Meyers employees.
Start Building Rewards Today
Start earning Tuition Rewards points on your Allan Meyers 401(k) balance. Even if you do not have an eligible student in your family at this time, you should still register to begin earning rewards. The sooner you register, the more Tuition Rewards you will have accrued for a loved one when he or she attends a member college or university.
Sign Up Bonus
Each account holder that completes the registration and logs in to activate their account will receive a 500 point Tuition Rewards bonus! In addition, each eligible student that you add to your account will also receive a 500 bonus points to get started!
How to Enroll
To enroll, enter the required information in the spaces provided below.
Do not enter student or beneficiary information here. The information here should be your (the account holder's) information.
All fields marked with an
*
are required.