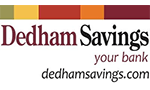 Start building rewards today!
Start earning Tuition Rewards on your eligible Dedham Savings account balances! Tuition Rewards is a free program for Dedham Savings account holders provides discounts (scholarships) worth over $53,000.00 off the "list price" of tuition at over 375 participating private colleges and universities.
Through Dedham Savings you will earn Tuition Rewards quarterly based on your eligible account balances - 5% annually with a guaranteed minimum of at least 1,000 points per year!
If you don't have any eligible students at this time in your immediate or extended family, you should still register to begin accruing rewards for use in the future. The sooner you register, the more Tuition Rewards you earn.
Sign Up Bonus
Each new account holder who completes the registration will receive a 500-point Tuition Rewards bonus ($500 value)! In addition, each eligible student that you add to your account will also receive a 500 bonus points to get started!