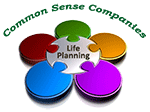 Start Building Rewards Today!
Because you have met with a licensed agent from Common Sense Companies, at no charge, you are eligible to register for the SAGE Scholars Tuition Rewards program.
What are Tuition Rewards?
Think of Tuition Rewards Points as "frequent flyer miles" for college tuition. However, instead of earning Tuition Rewards by flying, by meeting with an authorized representative to discuss saving or investing.
If I register, how will I earn Tuition Rewards?
After completing registration, we send you a "Welcome" e-mail with your personal activation code. When you log in and enter that code, you will receive your one-time registration bonus of 1,000 points and your 3,000 annual points for the first year. In addition, each eligible student that you add -- either during registration, or after logging into your activated account -- will also receive a 1,000 point registration bonus!
How do I collect the annual points?
Simple! If you've purchased a qualifying insurance policy through Common Sense Companies, you will automatically receive 3,000 points each year on the anniversary date of your account activation. If you do not purchase a qualifying policy, you simply need to come to www.tuitionrewards.com once per year and log in to claim your 3,000 points.
How much does this cost?
Nothing!
This program is
100% FREE
to families who have met with a licensed agent from America's 1st Financial Corp. and discussed Single Premium Life Insurance.
What makes a student eligible?
The student must be a family member (child, grandchild, niece, nephew etc.), and you must register the student by August 31st of the year that the student starts 11th grade. We encourage you to register all of the eligible students in your family as early as possible.
Are there any other important deadlines?
Yes - there are three.
Add Students:

You can sponsor

and and all

students in your immediate and extended family. Students must be registered in Tuition Rewards by August 31st of the year that the student begins 11th grade.

Assignment of Points:

The annual Tuition Rewards are accrued into your account. You must decide how to assign those points to your students. The last date that you can transfer points to a student is August 31st of the year that your student begins 12th grade. After that date, no points can be added to that student.

Submitting Points to Colleges:

When one of your students applies to one of our member schools, you must submit an electronic Tuition Rewards statement to that school. This must be submitted at the time of the application to that school.
Both assigning points and submitting statements can be done from your "My Students" page after logging in here at www.tuitionrewards.com.