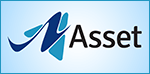 Asset Marketing Systems
Registration for Tuition Rewards through Asset Marketing Systems is handled directly by your agent, financial or insurance professional.
He or she will pre-register you for Tuition Rewards and will send you an e-mail with registration instructions.
If you have received a pre-registration Welcome e-mail, follow the link or instructions in that e-mail to complete the registration for your tuitionrewards.com account.
If you have any questions, please contact your Asset Marketing Systems representative, or contact our customer support team.