Tuition Rewards News
July 18, 2011
200,000th Student Enrolls in Tuition Rewards!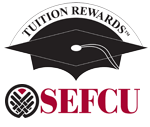 Jason King, a high school junior from Glenville, NY, recently became the 200,000th student to enroll in Tuition Rewards® from SAGE Scholars, the nation's only guaranteed private college savings program. Jason's parents hold accounts in SEFCU, a SAGE financial associate.
According to Barbara King, his mom, "We believe in the importance of saving in general, and SEFCU's matching scholarship program makes them an obvious choice for us to put our money." Mrs. King also has moved some of her mother's funds to SEFCU to increase the size of the Tuition Rewards scholarship. She and her husband, Michael, have also enrolled several great nieces and great nephews in Tuition Rewards.
Participating families can earn Tuition Reward Points, similar to frequent flyer miles, that are redeemable as guaranteed, non-need based scholarships at 275+ participating colleges and universities in 45 states through a variety of financial associates, including SEFCU, Pennsylvania's and Wisconsin's State 529 Plans, banks, credit unions, insurance firms, financial planners, mutual funds, and others.
The Tuition Rewards consortium has attracted 82 new colleges since March 2008. Nationally-known institutions participate in the consortium – Chaminade University of Honolulu, Clark University, Clarkson University, Creighton University, DePaul University, Drexel University, Duquesne University, Fairleigh-Dickinson University, Lawrence University, Rensselaer Polytechnic Institute, St. Lawrence University, The College of Wooster, University of Dayton, University of San Diego and Worcester Polytechnic Institute -- as well as many fine private colleges that are considerably more affordable than most families realize.
New colleges joining the consortium in 2011 are Asbury University (KY), Carlow College (PA), Carroll College (MT), Cincinnati Christian University (OH), Jamestown College (ND), Johnson University (TN), Northland College (WI), Saint Joseph's College (CT), St. Gregory's University (OK) and Saint Michael's College (VT).
In the last 12 months, participating high school seniors were offered more than $14 million in Tuition Rewards scholarships, which are given by member colleges as discounts off full tuition rather than as actual dollars.
"SAGE Scholars hitting the milestone of 200,000 enrolled students should serve as a very practical reminder to college enrollment executives that SAGE has become a major player in the prospective student 'match-making' arena," said Doug Swartz, an educational consultant, former VP of Enrollment at three member colleges and chair of the SAGE Advisory Council.
Dr. Allen P. Splete, former President of the Council of Independent Colleges and a SAGE Advisory Council member, agrees: "The SAGE Scholars Program, as attested by its level of growth, has proven to be an effective way to make private colleges affordable."
Neither consortium colleges nor the participating families pay to join. Financial organizations using Tuition Rewards as a value-added benefit pay a fee to cover administrative and marketing costs. Colleges absorb the scholarships, which are capped at one full year's tuition, as a marketing cost to effectively reach out to a wider student audience than individual colleges could on their own.
Dr. James Johnston, CEO and founder of SAGE, is a former Director of Admissions and Financial Aid for the University of Pennsylvania's Wharton MBA program. Johnston predicts that Tuition Rewards will grow to 500,000 enrolled students and 400 colleges within three years. He feels that SAGE performs an important public policy function: "With the current economic climate and the resulting pressures put on higher education by state budget cutbacks, Tuition Rewards has become an important incentive to motivate families to take responsibility for planning and saving for higher education."
About SAGE Scholars:
Founded in 1995, SAGE Scholars promotes private higher education and its member colleges to the 200,000+ enrolled students. Member colleges may contact students once they reach 9th grade at no charge. Tuition Rewards is the nation's largest private college savings program based on participating students and value of eligible assets. For a full list of the participating private colleges, visit the Tuition Rewards website
View More Recent News Stories