Tuition Rewards News
October 5, 2012
Saint Joseph's College (Indiana) Joins Tuition Rewards®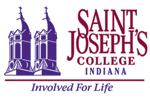 Saint Joseph's College, a coeducational, primarily undergraduate Catholic college welcoming students of all faiths, has become the 16th Indiana member of the SAGE Tuition Rewards® private college & university enrollment consortium. Founded and sponsored by the Missionaries of the Precious Blood, SJC is located in Rensselaer, in Northwest
Indiana, a drive of approximately 90 minutes from both Chicago and Indianapolis.
Complemented by the nationally-acclaimed Core Program -- the only interdisciplinary academic program of its kind -- SJC offers 26 majors, 4 group majors, 33 minors, and 9 pre-professional programs to an enrollment of approximately 1,100 students. Integrated with the major for four years, Core enables students to start their major in freshman year.
SJC provides students with a close-knit, supportive environment focused on the liberal arts, hands-on learning, marketable communication skills and the personal one-on-one attention needed for career development. 100% of SJC students receive financial assistance.
US News & World Report named SJC the sixth "Best Value College in the Midwest." The Princeton Review named SJC a "Best Midwestern College." The Templeton Foundation stated that SJC is a "character-building college." The National Endowment for the Humanities called SJC is "one of the three bright spots in the country for humanities education."
74 Catholic colleges now participate in Tuition Rewards®.
View More Recent News Stories