Member College Profile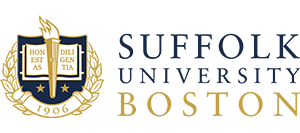 Located in the heart of downtown Boston, Suffolk University gives students unparalleled access to this dynamic city and all it has to offer. Whether they major in government, communications, psychology, sociology, theater, international studies, environmental studies, marketing, entrepreneurship, finance, global business or any other discipline, our 5,117 undergraduates come to Suffolk to gain the knowledge and hands-on experiential learning they need to become leaders in their chosen fields.
We take pride in being a personal, student-centered university, where faculty members lead small classes and focus on nurturing student success. Suffolk offers a 13:1 student-faculty ratio; the average class size is 22 students. Undergraduates may study at both our flagship Boston campus and our campus in Madrid, Spain.
We are steps - or a short T ride - away from Boston's top employers, and we prepare students for professional success from day one. Our partnerships with myriad institutions in Boston, across Massachusetts, and around the world grant Suffolk students a wealth of choices when it comes to internships and co-op experiences. Indeed, 95% of recent graduates were employed or enrolled in graduate school within a year of graduation.
Last year, 95% of our incoming freshmen received financial aid. Suffolk automatically considers all applicants-domestic and international-for merit-based aid.