Member College Profile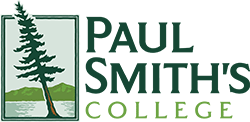 Paul Smith's College is located in upstate New York within the 6 million acre Adirondack Park. The College is 25 minutes to Lake Placid, which hosted the Winter Olympics in 1932 and 1980. With approximately, 900 students, PSC creates an environment that is friendly, supportive and caring in a resort-like atmosphere.
Academic majors at Paul Smith's include entrepreneurial business, recreation leadership, hotel, tourism and resort management and culinary/baking - resulting in a strong commitment to the hospitality industry. In addition, we offer top programs in environmental science, biology, natural resource conservation, forestry, fish and wildlife and ecological restoration. Our SAF-accredited forestry program uses our own forest (10,000 acres) and other resources, such as our sawmill, logging simulator and draft horses, to bring a mix of high tech and high touch to the program.
Our majors, location, and history attract students, men and women, who participate on our long-standing championship woodsmen teams. There are many other sports, clubs and activities to catch your interest as well.
Our faculty strives to make your education relevant by using practical applications, challenging students to engage in experiential, "hands on" projects. As a result, they draw on industries and resources in our own backyard while preparing students for successful careers anywhere.