Member College Profile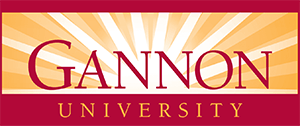 Gannon University (Erie, PA) is a Catholic, Diocesan university where a caring community of dynamic faculty and staff educate motivated students in a value-centered environment. For the 6th consecutive year, Gannon is ranked as a Top Tier university in U.S. News & World Report's "America's Best Colleges" -- and is designated among the "Top Up-and-Coming Schools."
With 4,238 students, Gannon's enrollment is at a 17-year high, but the University continues to maintain a low student-to-faculty ratio (14:1). Gannon offers nearly 100 academic programs in the health professions, business, education, engineering, humanities and the social sciences. A new, state-of-the-art Patient Simulation Center allows students of different health disciplines to work collaboratively in a hospital-like setting where they practice real-world scenarios on high fidelity "manikins" that react to treatments like human patients.
Gannon University focuses on preparing students for leadership roles in their careers, society and churches. Gannon's retention, graduation, employment and professional school placement rates significantly exceed national averages. Additionally, Gannon offers students a full range of extra- and co-curricular activities, including more than 70 campus clubs and organizations offering challenging leadership opportunities. The University annually awards more than $28 million in financial aid.