Member College Profile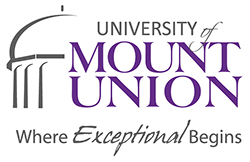 Exceptional is the rule at the University of Mount Union. This private university in Alliance, OH, grounded in the liberal arts tradition and offering hands-on, practical preparation, delivers a classic college experience – plus so much more.
Your Mount Union education begins with our high-quality academic program, featuring 59 majors plus minors and pre-professional programs. Supported by a world-class faculty – teacher-scholars who are passionate about their subjects and their students – you'll forge an intellectual foundation for lifelong learning.
A Mount Union education prepares you for today's realities and tomorrow's challenges by linking classroom instruction with practical application. Live what you learn – and build valuable career skills – through a full range of experiential learning opportunities, from campus leadership to community service and athletic endeavors to internships.
Our more than 18,000 alumni worldwide stand as proof that a Mount Union education is a worthwhile investment. In fact, among members of the 2014 graduating class, 99% of those self-reporting had started a degree-required career or were accepted to graduate school, all in an average of 38 days after graduation. It doesn't get much more convincing than that!
And this is why motivated students – from all walks of life – choose to #BeExceptional at the University of Mount Union.