Member College Profile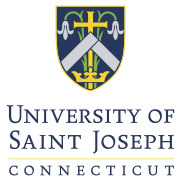 The University of Saint Joseph, founded in 1932 by the Sisters of Mercy, offers an education for strong, inquisitive women who will shape the future of the world. Ranked by U.S. News and World Report in the Top Tier of "Best Master's Colleges in the Northeast," The University (West Hartford, CT) prepares women in academically-challenging programs for a career; for graduate, medical or law school; or for our own School of Pharmacy.
USJ offers a strong liberal arts curriculum and more than 25 undergraduate programs, including nursing, education, dietetics & nutrition, the sciences, business, social work, child study and psychology. Quality personal service is the hallmark of a USJ education through small classes and individual faculty attention.
Our mission encourages ethical values, personal integrity and a sense of responsibility to the needs of society. Community service is a key component to the USJ experience; 90% of students are involved in service, internships and service learning.
Nearly 80% of first-year students live in one of our six residence halls; housing is available all four years. The College is competitive in eight NCAA Division III sports -- basketball, cross-country, lacrosse, soccer, softball, swimming/diving, tennis and volleyball. Located in a safe, residential neighborhood, USJ is four miles from the Arts & Entertainment district of Hartford and midway between New York City and Boston.