Member College Profile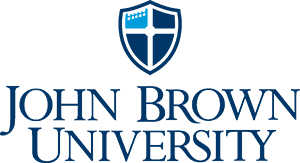 Established in 1919, John Brown University (Siloam Springs, AR) is a private, Christian university offering a top-quality education to more than 2,100 students from 41 states and 44 nations. JBU offers a choice of 41 majors to traditional undergraduate students, including biology, renewable energy, music, graphic design, international business and construction management. In addition, JBU offers three degree completion programs and nine graduate degree programs.
JBU is evangelical and interdenominational in its heritage. We share a common, sincere commitment to Christ and to the essential truths of the Christian faith. We seek to integrate our faith with learning, work and life in authentic ways that transform us and our world.
Faculty members at JBU are excellent in their fields and passionate about teaching. Our professor-to-student ratio is 14:1, allowing for personal and interactive educational opportunities. JBU leads numerous study-abroad programs and provides global mission opportunities.
The cost of a JBU education is an investment in your future. Students invest four years of their lives in an experience that will shape them and influence who they're going to be, personally and professionally. JBU's staff goes above and beyond to help students afford JBU whenever possible.